Abstract
Ever since Harrit e.al.'s paper "Active Thermitic Material discovered" (ATM, [1]) was published in April 2009, the world of 9/11 debaters (a small world, by the way) was split into two camps:
9/11 Truthers who believe all the chips are super-secret high-tech military-grade beast of extremely energetic nano-thermite. Note the stress on "all the chips"

Skeptics who see that the chips are not all the same, are not thermitic, but very probably different kinds of paint instead.
In this post I will show that one particular chip in ATM, the one they soaked in MEK and present in Fig. 12-18, cannot possibly the same kind of material as the four chips they present in Fig. 2-11. Assuming that both represent the same material is preposterous. The most benign explanation for why the authors make that assumption is wishful thinking. We can rule out simple error or that they overlooked something, because it has been pointed out to them more than once in the past that the chips are different. A less benign, but perhaps more probable explanation would be outright fraud.
Visual comparison
Here are the chips I am talking about – first, the four chips they first present. I usually refer to them as chips (a)-(d):
As you can see, the red layers all look pretty much like they could be the same stuff, perhaps paint. Color is very similar, finish is very similar. Same goes for the gray layer, which could be metallic for all we know (and yes, Harrit e.al. figure out correctly that the gray layer is a bulk of oxidized iron). Notice that we can see and roughly measure the thickness of the red layer in the inset of Fig 2(d): It is roundabout 15µm thick.
Next up, the MEK-chip: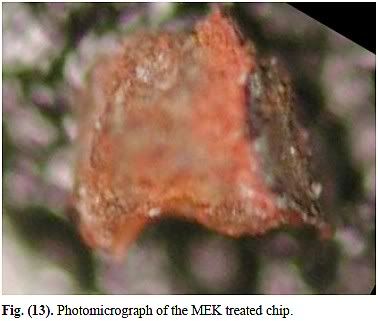 Whoa – what's up there?? The photo is totally out of focus! So yeah it is generally some kind of red and there seems to be some gray on the right, but does it have the same finish as (a)-(d)? Frankly, I can't tell! How thick is the layer? We can't tell from the photo, but Harrit e.al. included another image. In the following, the chip is shown after they had soaked it in a solvent called MEK for 55 hours.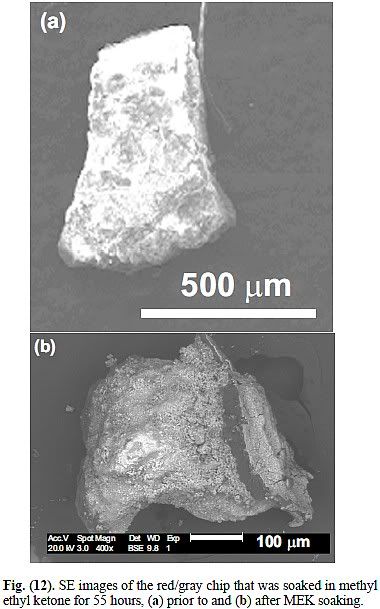 They explain on page 17:
The red layer of the chip was found, by visual inspection, to have swelled out from the gray layer by a factor of roughly 5 times its original thickness.
In Fig 12(b), the red layer, on the left, is between 250 and 300 µm thick, aproximately, so before soaking it was 50-60 µm. Quite a bit more than the 15 µm of the red layer of chip (d) above, eh? (In Fig. 5, it is possible to roughly measure the thickness of the red layers of chips (a) and (b): approx. 32 and 13 µm respectively). So does that MEK chip look the same as the others? Hmmmm maybe, maybe not. Maybe not.
Harrit e.al. show high-magnification BSE (a form of electron microscopy) images for chips (a)-(d) in Fig. 4, Fig. 5 and Fig 8, where you can see the grains (identified by Harrit as hematite) and platelets (almost certainly kaolin, a natural clay) in the organic matrix. Unfortunately, no such BSE images exist for the MEK-chip, so we can't compare it to chips (a)-(d). The only other data we have is XEDS.
XEDS spectra
An introduction to XEDS (SEM-EDS)
(You may skip this section if you are not interested in technical details of this method)
XEDS (X-ray energy dispersive spectroscopy, also abbreviated SEM-EDX, see Wikipedia [2]) is
...an analytical technique used for the elemental analysis or chemical characterization of a sample. […] a high-energy beam of charged particles such as electrons or protons (see PIXE), or a beam of X-rays, is focused into the sample being studied. […] The number and energy of the X-rays emitted from a specimen can be measured by an energy-dispersive spectrometer. As the energy of the X-rays are characteristic of the difference in energy between the two shells, and of the atomic structure of the element from which they were emitted, this allows the elemental composition of the specimen to be measured.
In an XEDS graph, the location of a peak along the x-axis identifies a chemical element, while the height of the peak along the y-axis is indicative of the relative abundance of the element in the sample. Please note first that equal peak heights of two different elements do not automatically mean same abundance, although this is roughly true for many elements (for example, it is true for aluminium and silicone), but not all (for example, if strontium and chromium were equally abundant by mass, then the first peak of strontium at 1.81 keV would be only about 75% the height of the chromium peak at 5.41 keV. This is also dependent on factors like "accelerating voltage and/or contaminating surface films" [3]). A second note: The lightest elements, from hydrogen (1H) typically to beryllium (4Be) don't show up at all in an XEDS graph (depending on the device, not even up to carbon or nitrogen). The next lighter elements up to chlorine (17Cl) only have one peak associated to them. Starting with potassium (18K), more than one peak may show up, but in most cases, only one or two are dominant. Last note: Peak height scales with abundance. So if you double the abundance of, say, silicone in your sample, the Si-peak will be twice as high (roughly). If you want to look up only which elements have peaks at which energy levels (measured in keV – kilo Electronvolts), you may refer to [4]. Just klick on the element symbol you are interested in, and look in the column "Edge Energies". Usually, the K-alpha level is your first major peak, K and K-beta for secondary peaks. Elements heavier than arsenic (33As) don't have important K-levels below 10 keV and are more usually identified by L-alpha or L-beta.
The spectra of Harrit e.al.
Harrit e.al. provide XEDS spectra for chips (a)-(d) in Fig. 7, and a spectrum for the MEK-chip (before soaking) in Fig 14. Let us first take a close look at all the peaks in Fig. 7 (shown below) and see if these four graphs are similar enough so we can be confident that all four show the same material. All have major peaks for 5 chemical element (from left to right, the major peaks: Carbon (C), oxygen (O), aluminium (Al), silicone (Si), iron (Fe)). In figure 7(c), Harrit e.al. have also labelled small peaks of natrium (Na), sulfur (S), potassium (K) and calcium (Ca). In addition, we think there are tiny but discernable signals for S and Ca in (a) and (b) as well, for chromium (Cr, K-alpha = 5.41 keV) in (a), (b) and (d), and titanium (Ti, K-alpha = 4.51 keV) in (d). While the small peaks could always be some sort of contamination (either on the surface, or of the minerals contained in the chips; for example, kaolin usually has small inclusions of Ti and Ca), the major elements do show up in comparable relative peak heights:
In all four chips, C is by far the highest peak, being several times (2.85x to 7.45 time, average 4.3 times) as high as the second highest, peak, O

O is the second highest in 3 graphs, and barely beaten by Si in 1. O has between 85% and 300% the peak hight of Si (average: 161%)

Si and Al follow in third and fourth place, at almost the same hight. Al has between 87% and 110% the peak hight of Si (average: 96%). This result is consistent with both elements appearing in equal molar amounts.

Fe (K-alpha) is always the fifth-highest peak, reaching between 51% and 81% of Si (average 70.5%)

Note that none contain zinc (Zn) or magnesium (Mg), and all have at most traces of Ca and S
Here is Fig. 7: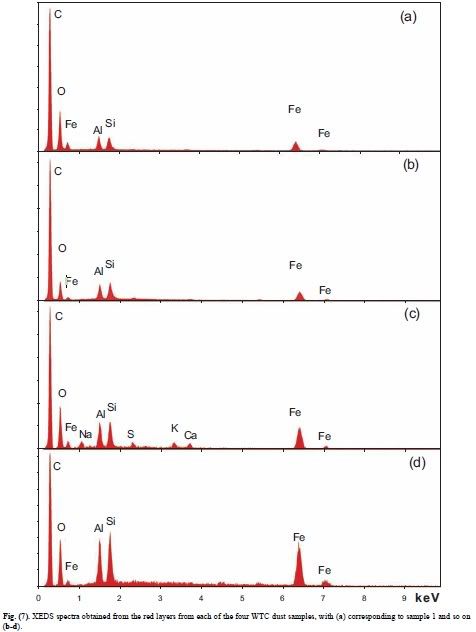 Now compare this to the MEK-chip, Fig 14: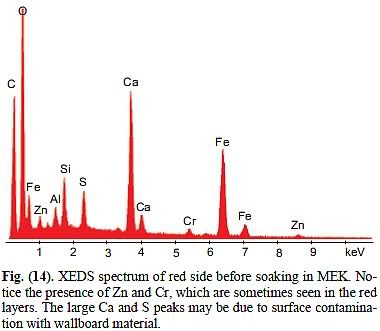 It is very obvious that none of the characteristica of Fig. 7 are found here: For starters, Al is not among the 5 or 6 highest peaks, it is only number 7. Instead, Ca clocks in as the sceond highest peak. So let's go through the list item by item:
C is not the highest peak, it is only the 3rd-highest. Instead of being at least 2.8 times as high as O, it has only about 60% of the height of O.

O is much too abundant – relative to C (and, coincideltally, to Al) by a factor of at least 4.7

Si and Al are not about equally abundant. Si-peak is too high relative to Al by a factor of 1.8

There is way too much Fe relative to both Al and Si: Fe should be near 68% of Al, but it is actually 2.75 times as high. This means, too abundant by a factor of 4.

The Ca peak is HUGE, it should only be a trace. The S-peak is BIG, it should at most be a trace. There should be no Zn at all. There is a peak between Zn and Al that Harrit e.al. did not label, but which certainly represents Mg. There should be no signal for Mg.
Discussion
How do Harrit e.al. explain these differences between Fig 7 and Fig 14? Here's how (page 17):
The resulting spectrum, shown in Fig. (14), produced the expected peaks for Fe, Si, Al, O, and C. Other peaks included calcium, sulfur, zinc, chromium and potassium. The occurrence of these elements could be attributed to surface contamination due to the fact that the analysis was performed on the as-collected surface of the red layer. The large Ca and S peaks may be due to contamination with gypsum from the pulverized wallboard material in the buildings.
So pretty much all of the Ca, all of the S, 75% of the Fe, 80% of the O, 45% of the Si, all of the Zn, all of the Mg is contamination? Gypsum, eh?
Here are three XEDS graphs for gypsum from the WTC [5]: Gypsum-01, Gypsum-02, Gypsum-03
Note that in the first two of the graphs, S peak is higher (by about 35% and 32%) than Ca, and in the third, which also has (calcium-?) carbonate, S is 33% lower than Ca. McCrone ([3] page 638) has S about 9% lower. This is to be expected, as the chemical formula for gypsum is CaSO4·2H2O - notice how Ca and S both have one atom in that molecule, their molar abundance is equal, their atomic weight is not much different (S: 32; Ca: 40; that's a ratio of 1:1.25). So, if you assume that gypsum is a major contaminant in Fig. 14, you must take off as much (+/- 33%) S as Ca – until you run out of S. Now, in Fig 14, Ca is 3 times as high as S. If you claim all of the S is from gypsum, and you remove all of it, and If I grant you that you may remove 33% more Ca than S, then the Ca peak is still almost as high as Fe, and higher than Si and Al. And the Fe-peak is still too high relative to C and Al, Si is too high relative to Al. So obviously, even if gypsum explaines all of the "contamination" with S, it would still constitute only a minor part of all of the "contamination". In fact, to make Fig. 14 look similar to Fig. 7, you must
remove 80% of the oxygen (highest peak)

remove 95% of the calcium (2nd highest peak)

remove 75% of the iron(4th highest peak)

remove 45% of the silicone (5th-highest peak)

remove 95% of the sulfur (6th-highest peak)

remove all of the Zn

remove all of the Mg

remove most of the Cr
In other words: On average you must declare two thirds (65%) of the six most abundant elements to be contamination.
This is absurd. Preposterous. Wishful thinking. If not fraudulent.
Conclusion
A much better explanation is in order: Since no data exists, other than the base color and magnetic attraction, that shows that the MEK-chip is the same material as chips (a)-(d), since the visual appearance is doubtful, since the layer is too thick, and since the XEDS data shows that at least 65% of the mass of this chip is different from chips (a)-(d), the best and obvious conclusion is:
The MEK-chip is of a different material than chips (a)-(d). The assumption that the differences can be explained as contamination does not survice scrutiny and must be firmly rejected.
References
[1] Niels H. Harrit, Jeffrey Farrer, Steven E. Jones, Kevin R. Ryan, Frank M. Legge, Daniel Farnsworth, Gregg Roberts, James R. Gourley and Bradley R. Larsen: Active Thermitic Material Discovered in Dust from the 9/11 World Trade Center Catastrophe. The Open Chemical Physics Journal, 2009, 2, 7-31
[2] Energy-dispersive X-ray spectroscopy. Wikipedia, retrieved 2012/03/14
[3] Walter C. McCrone and John Gustav Delly: The Particle Atlas Edition Two, Volume III: The Electron Microscopy Atlas. Ann Arbor Science Publishers Inc., 1973, page 579
[4] Illinois Institute of Technology: Peridiodic Table. Last retrieved 2012/03/14
[5] US Geological Service: Particle Atlas of World Trade Center Dust. Open-File Report 2005–1165: On-line Report, öast retrieved 2012/03/14