Abstract
There was not only one steel primer used on WTC tower structural steels, but at least one other primer:
LaClede Standard Primer is a zinc-free paint formulation with which the floor joists of the twin towers were painted.
The painted area of these LaClede-painted floor joists in both towers was roughly 600,000 m2 while Tnemec is only known to have been specified for about 400,000 m2 of perimeter column surface. For the rest of the structural steel – core columns, hat truss and others, a total of 300,000 m2 the primer used isn't known.
Claims that Niels Harrit proved that some red-gray chips in the WTC dust are not WTC primer are basing this claim on the FALSE assumption that Tnemec was the only primer used. In fact, I will show that the chips that Harrit proved to not be Tnemec look very much like LaClede Standard Primer.
Introduction
Back in May 2009, Niels Harrit wrote "Why The Red/Gray Chips Are Not Primer Paint" [1]. In it, he shows the composition of Tnemec Red, which has, among others, Zinc Yellow as it's main pigment. He then shows, in his Fig. 5, the XEDS spectra of the red layers of four red-gray chips labeled (a)-(d) from WTC dust, which he and 8 others had characterized in a paper published in April 2009 [2]. Result: Since Chips (a)-(d) contain no Zn, they can't be Tnemec. I agree with this finding – these four chips indeed are not Tnemec.
But Tnemec wasn't the only steel primer used in the WTC! As far as is known, Tnemec was the specified primer for the WTC perimeter columns[3].
At least one other primer has been applied to WTC steel: LaClede Steel Company, manufacturer of the floor trusses [4], used their own shop primer, or LaClede Standard Primer with the following composition [5]:
Pigment: 28.5% by weight

Iron Oxide: 55%

Aluminium Silicate: 41%

Strontium Chromate: 4%

Vehicle: 71.5%

Epoxy Amine and other: 100%
I find this false claim, that there was only one primer (Tnemec) used in the WTC towers, quite often in recent articles by people who want to defend Harrit e.al.'s claim that the red-gray chips are somehow nano-thermitic, for example at AE911T [6a]. These authors need to understand that they err: They have so far overlooked LaClede Standard Primer!
LaClede Standard Primer
The above formulation of LaClede Standard Primer can be broken into chemical elements, with a few reasonable assumptions:
"Iron oxide" is hematite, chemical formula Fe2O3, a red pigment. Hematite pigments are bright red at particle sizes between 100 and 300 nanometers, and in that size it is universally used in all kinds of paints.

"Aluminium Silicate" is kaolin, chemical formula Al2Si2O5(OH)4, a clay mineral very commonly used in paints to control gloss consistence. Kaolin appears naturally in platetelets some micrometers across and some tens of nanometers thick, which tend to stack.

The cured epoxy vehicle is polymeric and it is difficult to give a sum chemical sum formula, but it is dominated by carbon (C, 68% by weight), oxygen (O, 13%), hydrogen (H, 9%) and nitrogen (9%)
With these chemical formulas, I computed the elemental composition of LaClede Standard Primer:
C: 48% by weight

O: 21%

Fe: 11%

H, N: 7% each

Si: 2.5%

Al: 2.4%

Sr: 0.5%

Cr: 0.3%
Using DTSA-II, a free multiplatform software package for quantitative x-ray microanalysis [7], I simulated a bulk sphere with the above chemical composition, using the same 20 keV that Harrit e.al. used:

The five larges peaks are, from left to right: C, O, Al, Si and Fe. Note the relative height: C is nearly twice as high as O; O is higher than than Al and Si; Al and Si are nearly equal; Fe is perhaps 70% of Si. Note that there is a small bump for Cr (chromium) at 5.4 (keV) on the x-axis, but none for Sr (strontium). The reason why strontium is invisible is that its main peak would be nearly exactly where the Si peak is, so it is hidden under the much larger Si signal.
We have estimated that the total painted surface area of the LaClede floor joists was about 600,000 m2 in both towers combined, or 50% more than the surface area of the exterior columns that were painted with Tnemec.
Discussion
Compare the XEDS graph of LaClede primer with Harrit's chips (a)-(d):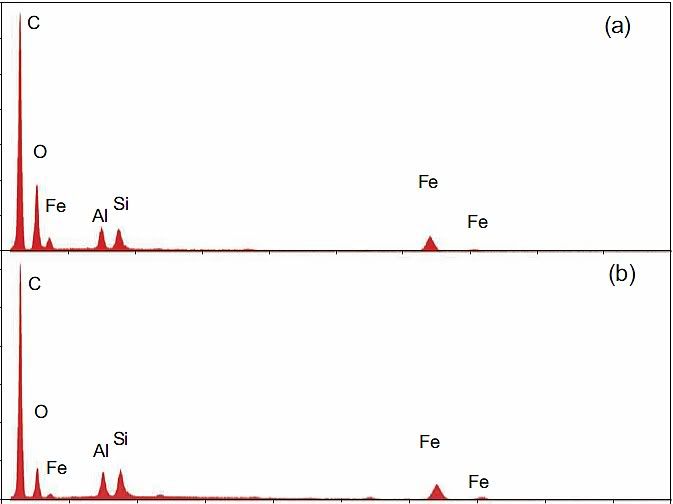 Now notice: C is again the highest peak by far, O is second in three of the four chips. Al and Si are nearly the same, Fe is typically about 70% of Si. And there is a small bump at 5.4 keV in chips b and d, which is chromium!
In [1], Harrit presents a more detailed XEDS graph for chip (a):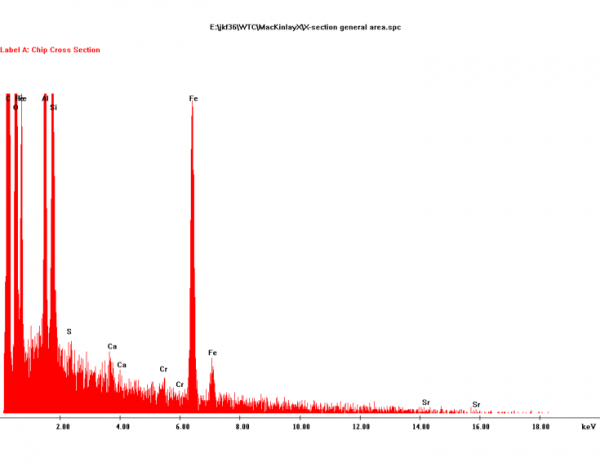 Do you see how Harrit has detected Cr (chromium) and even Sr (strontium) in trace amounts? Yep, there are also signals for S and Ca. Perhaps a tiny inclusion of gypsum, but I wouldn't bet on that.
Conclusion
I have shown that Harrit's argument, re-gray chips (a)-(d) can't be primer because they are not consistent with Tnemec, falls flat on its face, because Tnemec was not the only primer used on WTC steel. Another primer that must be considered is LaClede Standard Primer, and there could be even other primers of which no documentation seems to exist (we don't know for example which primer, or primers, was painted on the core columns and beams).
I have further shown that the XEDS spectra of chips (a)-(d) are very much consistent with the the paint formulation of LaClede Standard Primer.
I call on all honest and science-minded people in the 9/11 Truth Movement to reject Harrit's claim that chips (a)-(d) can't be primer as premature and consider LaClede Standard primer as a possible source for some of the red-gray chips. Tnemec may be another such source of other chips; in fact it seems that the MEK-soaked chip in [2] is consistent with Tnemec, as I have shown in another post [8] – this MEK chip can't possibly be identical with chips (a)-(d)! [9].
I further call on all students of [2] to realize that Harrit e.al. have analysed several different kinds of red-gray chips, and not pretend they are all basically the same.
References
[1] Niels H. Harrit: Why The Red/Gray Chips Are Not Primer Paint. Open Letter, May 2009
[2] Niels H. Harrit, Jeffrey Farrer, Steven E. Jones, Kevin R. Ryan, Frank M. Legge, Daniel Farnsworth, Gregg Roberts, James R. Gourley and Bradley R. Larsen: Active Thermitic Material Discovered in Dust from the 9/11 World Trade Center Catastrophe. The Open Chemical Physics Journal, 2009, 2, 7-31
[3] Carino, N. J.; Starnes, M. A.; Gross, J. L.; Yang, J. C.; Kukuck, S. R.; Prasad, K. R.; Bukowski, R. W.: Passive Fire Protection. Federal Building and Fire Safety Investigation of the World Trade Center Disaster (NIST NCSTAR 1-6A). 2005. Page 87: "...Series 10 Tnemec Prime (99 red), which is the primer that was specified for the exterior columns"
[4] Luecke, W. E.; Siewert, T. A.; Gayle, F. W.: Contemporaneous Structural Steel Specifications. Federal Building and Fire Safety Investigation of the World Trade Center Disaster (NIST NCSTAR 1-3A). 2005. Table 3-5, p. 21
[5] Gross, J. L.; Hervey, F.; Izydorek, M.; Mammoser, J.; Treadway, J.; Fire Resistance Tests of the Floor Truss Systems. Federal Building and Fire Safety Investigation of the World Trade Center Disaster (NCSTAR 1-6B). 2005. Appendix B, p. 157 of the PDF
[6a] AE911Truth Staff: FAQ #7: Aren't the Red-Gray Chips Identified in the WTC Dust Merely Primer Paint from the WTC Steel Structural Elements?. Architects & Engineers for 9/11 Truth, 2012/03/15. Retrieved 2012/03/16
[7] Chuck Fiori, Carol Swyt-Thomas, and Bob Myklebust: DTSA-II Desktop Spectrum Analyser. Retrieved 2012/03/15
[8] Oystein: Steven Jones proves primer paint, not thermite. 2011/03/31
[9] Oystein: Why red-gray chips aren't all the same. 2012/03/14